EL ASCENSO
That sound that in its expansion through space manages to merge with it, manages to transform it, giving it new limits, or rather, diluting them, because once you are immersed in such a successful fusion, you don't know more about them. The concrete is already a prisoner of wills of an extremely capricious nature. It is so that at that precise moment, when the limits of space are exceeded by such intensity, that space can no longer function as a container, because at this point, its heavy walls collapse before the new form that the sound has made of this one. It is then, when this "new form" supports itself and has broken with those restraints that present it tied, it has no ceiling other than infinity itself, opening up a possibility, which is presented as a trend, that is, " the ascent". However, although this "new form" that in its release invites us to lose ourselves in it, it is necessary to remember that it still maintains an old link with its old container, because although it belongs to an unprecedented being, its antecedent keeps it connected to space. , since when transforming it, it establishes a bridge with it, or rather, a bay, from which it becomes possible to set sail for the ascent. Despite the fact that this sound already described has already inaugurated a form that we call "new", we recognize within it aspects of what is known, since it participates in notes, chords, harmonies. Let's not forget now that yes, this is indeed the bay, which reminds us of what we know about the world and remains there to go and return, so we should not be afraid to see beyond and let ourselves be led by it to discover it. We speak then of a space with no more limits than those that sound can give it. A space that makes possible this tension between the ascent and the world. A space where the form finds a new being that goes back and forth between the recognizable and the unrecognizable. Throbbing perception. Didn't we talk all this time about painting?
"WÜSTENZIMMER" oil/acrylic/fabric 200×300 CM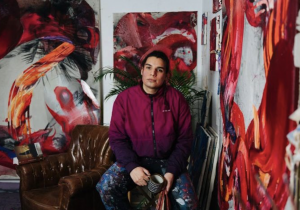 Fabian Ramírez
IG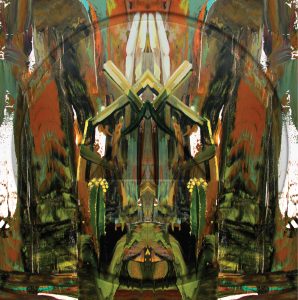 Bahía de Ascenso – Bahía de Ascenso LP
Bahia de Ascenso is an orchestra born from keyboardist/composer Roberto Verastegui's drive to get together a recording session with the most creative musicians he could find to play some new ideas he had been working on. Established in the Mexico City area, Verastegui called up his old Texas friend and phenom bass player Jacob Smith, booked the session at the beautiful and powerful studio El Desierto CasaEstudio, and put together a band that included up and coming star vocalist/songwriter Silvana Estrada, woodwinds extraordinaire Diego Franco, creative guitarist and composer Aaron Flores and long time friend, composer and drumming master Andres Marquez. Since the beginning of the session, the music clicked, and what started as an experiment, became the core of the band's debut album in less than 12 hours of studio time.
Bahia de Ascenso (which means 'ascension bay') was created; a platform where the musicians involved could orchestrate a given song with complete freedom. What Verastegui is trying to achieve is overcoming the risk a producer or bandleader takes when he lets go of egocentric decisions over his own compositions, and let the performers take improvised artistic decisions on their own, trusting the ears and sensibility of each and every one of
the improvisers involved, only providing them of some simple structures in which rhythm, harmony and overall atmosphere are subject to change.
Since the recording session in february 2018, Bahia de Ascenso has played in different venues in Mexico City as well as jazz and contemporary music festivals around Mexico. With the release of their debut, self-titled album, they look forward to keep searching for new sounds and new ways of exploring the music, and bringing to the scene an artistic voice that expresses the times and shifts in the world.
released February 14, 2020
Audiophile 12″ vinyl  / Limited edition 350 copies / Screen print insert signed by Bahia de Ascenso
Get it  here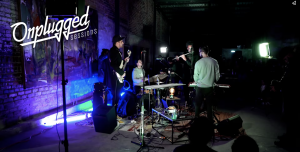 Watch the video Bahia de Ascenso Onplugged Session on We Are Not Zombies here